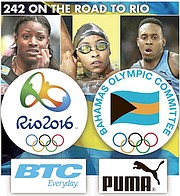 #By BRENT STUBBS
#Senior Sports Reporter
#bstubbs@tribunemedia.net
#IT may not have any effect on what's happening in Rio de Janeiro, Brazil in August, but at least the Bahamas Olympic Committee can look forward to the 2020 games in Tokyo, Japan with great anticipation.
#Yesterday, the World Baseball Softball Confederation (WBSC) welcomed the announcement by the International Olympic Committee (IOC) Executive Board to support the inclusion of baseball and softball in a new sports package for the 2020 Olympic Games in Tokyo.
#A final vote on the composition of the sports programme for the Tokyo 2020 Olympic Games will be taken at the IOC Session in Rio de Janeiro in August and, if approved, it would constitute "the most comprehensive evolution of the Olympic programme in modern history," the IOC stated.
#"It is an honour for our global sport — and a great day for our millions of male and female athletes, and fans around the world — to be represented within this new and innovative youth-focused Olympic sports package," said WBSC President Riccardo Fraccari. "On behalf of our sport, we thank IOC President Thomas Bach for his Agenda 2020 vision — which has sparked this Olympic evolution — and the entire IOC Executive Board for today's recommendation.
#"The WBSC also reconfirms our deepest gratitude to Tokyo 2020 leadership for placing its trust in our sport. Olympic baseball and softball in Japan would be the biggest and most exciting international competition in the history of our sport, and would help the Olympic Games touch the entire host nation and worldwide community."
#The BOC has been hard pressed to get a team sport qualified for the Olympics with volleyball and basketball having gone further than any other in recent times, although they have both still fallen short of getting into the final round of competition.
#Softball has been a predominant sport for the Bahamas, having excelled exceptionally well in the region. Baseball, although it has been hit by a long standing dispute that has yet to yield the results many expected, has seen an influx of players who have been drafted and are now in the pipeline in minor league baseball.
#Just imagine if the Bahamas Baseball Association and Bahamas Baseball Federation can put all of their differences aside and focus on the one common goal of putting together a true representation of our men's national baseball team which would show the kind of strides we can make in the sport.
#Baseball and softball's global reach, loyal fan-base and positioning across many of the biggest sports markets, including Japan, offers a unique opportunity to further spread and elevate the Olympic brand while connecting with new audiences and more young people, said the WBSC president.
#For WBSC, today's IOC Executive Board recommendation helps to highlight the growing global appeal and popularity of baseball and softball, particularly among young people and women. Over the last decade, and with the merger of baseball and softball that established the WBSC in 2013, baseball and softball stakeholders have worked to solidify the gender-balanced global bat-and-ball sport, which now represents 65 million athletes from 213 national federations and associate members in over 140 countries.
#Baseball and softball at the national team level has never been as popular as it is today — among fans, broadcasters, partners and the players themselves. A record 31 national teams will compete at the 2016 WBSC Women's Softball World Championship in Canada this summer.
#The WBSC Premier12 Baseball World Cup last November was Japan's most watched international sports event broadcasted in 2015.
#The WBSC Premier12 also generated the highest volume of online media buzz among young digital users in Japan — with over 2 billion social media impressions — surpassing all other major sports events in 2015.
#In Japan, baseball/softball has remained atop the landscape and a central part of the culture for more than 70 years.
#At one point, both the women and men's national softball team was ranked in the top three in the world.
#What is to say that with more emphasis being placed on the sport that atleast the women regain their level of competitiveness where they can get back to that level.
#At the same time, the men could be making a push for their prominence in baseball.
#We may not have any team sport competing in Rio de Janeiro in August, but who is to say that we can't get at least two or even more team sports qualified to travel to Tokyo to compete in the next Olympics in 2020.