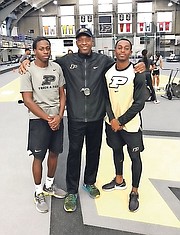 COACH Norbert Elliott shares a special moment with Tamar Greene (left) and Samson Colebrooke.
#By BRENT STUBBS
#Senior Sports Reporter
#bstubbs@tribunemedia.net
#THERE has been much concern about the effect of student athletes travelling to the United States to continue their education in the COVID-19 pandemic.
#On Monday, the US Department of Homeland Security announced temporary exemptions for non-immigrant students for the fall 2020 semester, which indicated that students currently enrolled in schools and/or programmes that are fully online will either have to depart the country or take other measures, such as transferring to a school with in person instructions to remain in lawful status.
#When contacted to get their take on these new requirements, at least one coach, Bahamian Norbert Elliott at Purdue University, said the rule will not affect the Bahamian athletes currently enrolled there.
#"Those students, who don't have a visa, they can't come in the fall (August), they will have to come in the spring (January)," said Elliott, a former Olympic triple jumper who competed for the University of Texas at El Paso following his graduation from St Augustine's College.
#At present, Elliott has three Bahamians on athletic scholarships with the Boilermaker track team at Purdue. They are sprinter Samson Colebrooke and jumpers Tamar Greene and Vinajah Adderley.
#"Since they are currently enrolled as international student athletes, they are not affected," Elliott said. "Vinajah and Tamar are both home on vacation in the Bahamas and they will be allowed to return without any interruption and join Samson on the team. Samson is already here. He stayed for summer school.
#"For our international students, we've never advised them to take online courses. The university is not resorting to that. I know some schools are doing it. Harvard University is doing it for the fall for all online courses, but Purdue is going to do some partial online and some face-to-face classes. So those international athletes wont be affected by those new US Government regulations."
#Elliott, however, said those athletes who have not yet received their student visas will definitely be affected this fall.
#He noted that they were trying to get an athlete in from Trinidad & Tobago for their freshman year this fall, but that won't happen until the spring because of the new restrictions.
#"These restrictions are changing every day as regards to COVID-19," Elliott noted.
#"Right now, we are having some online classes and some face-to-face classes, but I think we will be okay with the international students that we have on our roster.
#"We are really monitoring that very closely, but it shouldn't be a problem for them. They are not issuing any new student visas and I think that is probably the case with most schools. The US Government is not issuing any new visas for student-athletes. So that will pose some difficulties."
#With so many student-athletes looking at the scholarships available to colleges and universities in the United States, not just in track and field, but across the board, Elliott said it's going to be difficult to comply to the social distancing and the wearing of the mask. "We have a new study out that shows that this COVID-19 is affecting more of the younger generation," Elliott said.
#"So it's going to be hard to keep them in place, especially those who are attending colleges and universities because they are more adventurous. So if those students can't come on campus and train, this will really modify what we do this season in all sports across the board. Right now, they are looking at pushing the start time for basketball and football, the bigger sports, further back to the spring as opposed to the fall."
#Athletic directors in all of the schools are on pins and needles as they work from home trying to figure out how to make the adjustments to their programmes and when this pandemic will end.
#Purdue University is scheduled to open up on August 24 and their fall semester will actually end on November 24, which means that all of their holidays and regular breaks will be cut out this year.
#"What they don't want is to take a break and having students going to parties and coming back with the virus," Elliott stated. "So they are really condensing the school year to compact anything into a shorter space of time.
#"In that way, the schools will try to eliminate the spread and the contact tracing of the virus because once the students are in school, there will be no need for them to have to do all of the things that they did off the campus like they did in the past."
#In Lafeyette, Indiana where Purdue is located, Elliott said they have contained the virus so far, but a lot of the southern states around them are not so fortunate. So he's encouraging his athletes to do their part to try and control the spread of the virus by following the guidelines and the protocols that are in place.
#While there has been a vast increase in cases of the coronavirus in Florida to more than 214,000 and over 3,000 deaths, there are about 49,000 cases in Indiana with over 2,000 deaths.
#The United States has confirmed more than three million cases and over 133,000 deaths.
#Worldwide, there are over 11 million cases and more than 539,000 deaths.The Bahamas has 104 cases, 89 of which were recovered, with 11 deaths.