Kai Jones, Ayton and Hield in action tonight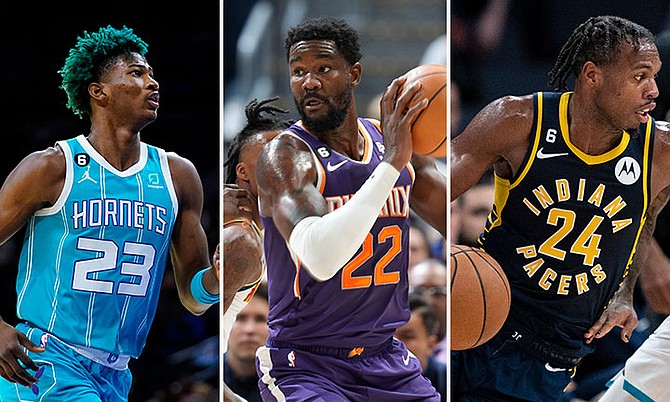 Kai Jones, Deandre Ayton and Buddy Hield.
As of Wednesday, October 19, 2022
#By RENALDO DORSETT
#Tribune Sports Reporter
#The 2022-23 NBA season officially tipped off last night. However, Bahamian players are scheduled to get their respective campaigns underway tonight.
#Chavano "Buddy" Hield's Indiana Pacers and Deandre Ayton's Phoenix Suns will open the season at home while Kai Jones' Charlotte Hornets begin the season on the road.
#The Pacers will host the Washington Wizards tonight at Conseco Fieldhouse in Indianapolis, Indiana, at 7pm.
#The early veteran extension deadline passed on October 17 without Hield and Pacers reaching an agreement to extend his current contract.
#Hield has been the subject of trade rumours for much of the offseason and had the sides agreed to an extension, he would have been ineligible to be traded for at least six months if the deal included a more than five percent raise. Hield will now be ineligible for an extension until next offseason.
#Hield was traded from the Sacramento Kings to the Pacers last February and in 26 games with the club, he averaged 18.1 points, 5.2 rebounds, and 4.8 assists per game. He shot 45 percent from the field and 36 percent from three-point range in just over 35 minutes per game.
#Prior to the trade, he averaged 14.4 points per game and made 182 three pointers, and was shooting a career-low 37 percent in 28 minutes per game with the Kings.
#Hield, one of just two players returning to the Pacers roster at least 29-years-old, said the young group is already showing signs of bonding and familiarity. He said he continues to ignore the rumours, but is focused on the task at hand with the Pacers.
#"It's the business of basketball. No matter what happens I love playing basketball," Hield said. "Once I have a job, and I'm able to play in this league for a long time it doesn't matter where I go, I'm happy, I'm still here I'm just glad to play basketball at a high level with the best basketball players in the world."
#Ayton and the Suns will begin the season with a rematch of the Western Conference semifinals upset that set the tone for a tumultuous offseason.
#The Suns will begin a new era without former owner Robert Sarver when they host the Dallas Mavericks tonight at 10pm at the Footprint Center in Phoenix, Arizona.
#For the second consecutive season, the Suns will be featured in a franchise record-tying 34 nationally televised games. A total of 22 games will be broadcast on ABC, ESPN or TNT, with an additional 12 on NBATV.
#In his fourth season, Ayton averaged 17.2 points on a career high 63 percent from the field and 10.2 rebounds per game in 58 appearances. He appeared in only 17 minutes of the Suns' 123-90 elimination loss to the Mavericks in game seven of the conference semifinals last season.
#Following a lengthy restricted free agency process, Ayton officially inked a four-year $133 million contract in July to return to the Suns.
#"Yea I'm alright," Ayton responded when asked if he's happy to be back with the Suns.
#"When I'm in between those lines, man, I just work. I know I'm not playing for myself. I have an organisation across my chest and a name on my back I have to represent, I'm just here to work."
#Jones and the Hornets open the season tonight on the road against the San Antonio Spurs at 8pm at the AT&T Center in San Antonio, Texas.
#The Hornets have a stacked depth chart in the frontcourt headed into the 2022-23 campaign but Kai Jones looks to use his versatility to take advantage of every opportunity in year two.
#Jones called his rookie season "a beautiful experience" at Hornets media day but looks forward to making a bigger impact this season. "With my athleticism, I can have a two-way impact," he said.
#"Lob threat, blocking shots, just being versatile."
#As a rookie, he appeared in just 21 games at three minutes per game before spending the bulk of the season in the G-League with the Greensboro Swarm.
#Jones participated in the NBA2K23 Las Vegas Summer League and in five games, the second year forward averaged 8.6 points, 6.4 rebounds and two blocked shots in 20 minutes per game.
http://www.tribune242.com/news/2022/oct/19/kai-jones-ayton-and-hield-action-tonight/?news